Here are the most beautiful Mehndi designs of 2023. Our designs range from intricate patterns to simple yet elegant styles that are perfect for any occasion. All festivals of girls are incomplete without mehndi whether it is Eid, a wedding, or any other event. The festival does not seem complete until the girls apply henna.
Bridal mehndi designs are very heavy and cannot be applied on every occasion, these designs are predominantly for brides. but No need to worry we have brought for you some such casual mehndi designs which are perfect for any festival.
For Unique Wedding Hair Style You Can Apply In Any Function "Click Here"
1. Simple Mehndi Designs
If you're a fan of minimalist and elegant designs, then simple mehndi designs are the perfect choice for you. These designs are perfect for those who prefer a more subtle look but still want to incorporate the beauty of henna into their style.
One great thing about simple mehndi designs is their versatility. They can be applied to any part of the body, from the hands and feet to the arms and legs. Some popular designs include geometric shapes and floral patterns and delicate vines. These simple designs are also perfect for beginners who are just starting with the art of henna.
Another advantage of simple mehndi designs is their ease of application, they can be applied quickly and without much effort, which is perfect for those who want a beautiful design without spending much time on it. In addition, the simple design can be easily customized according to style and preferences.
2. Arabic Mehndi Designs
Arabic designs have intricate patterns of flowers and beads, which are usually applied to the hands and the back of the feet. Arabic designs are one of the most popular designs in Mehndi.
The Arabic seems uniquely beautiful due to its lush and fluid design. Another trend in Arabic mehndi designs is the use of negative space. This technique involves leaving some areas of the skin blank while filling in others with henna. This creates a beautiful contrast and adds an extra level of depth and dimension to the design.
3. Indian Mehndi Designs
Indian-style designs have more intricate and detailed patterns. which cover the entire hands and feet. Delicate lines and dots often characterize these designs. which creates a wonderful effect.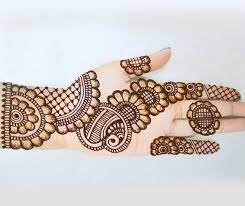 4. Rossete And Filigree Mehndi Designs
Roses are a beautiful part of any Mehndi design. The different views of roses and the flow with them look great on any design. However, in recent years we have seen a trend in creating the rosette mehndi, which turns into a delicate pattern, like filigree. These are the same patterns that are made on the whole arms. But it looks no less than the beautiful gloves of Rose. Floral and filigree mehndi designs are one of the most beautiful mehndi designs.
5. Criss-Cross Mehndi Designs
The criss-cross mehndi design represents graphic design. They are symmetrical and look sharp. Criss-cross mehndi designs beautifully cover the surface of the hands. The criss-cross shape design is hard to nail but gives the hands and feet a classic look.
6. Tikki Mehndi Designs
Tikki Mehndi design is the origin of all Mehndi designs. It is loved by women and girls of all ages. You may have seen various trends, but no pattern can compete until now with this design. Tikki mehndi designs consist of various eye-catching designs that enhance the delicacy of the tikki pattern.
7. Fingers Mehndi Designs
Finger mehndi designs are becoming increasingly popular, especially among women around the world. These designs can range from the more elegant to the intricate and complex. And they can be tailored to individual preferences and styles.
8. Bracelet Mehndi Designs
Mehndi designs are gaining popularity in this bracelet style as they give a new look to the wrist. And give the crowd a unique and amazing look. Many girls and women wear bracelets and bracelet mehndi designs can be perfect for those unique and beautiful looks.
9. Moon Mehndi Designs
This moon mehndi design for Eid is very unique. Apart from this, people who like Moon choose the same design in their normal routine. Moon has a distinct appeal its mehndi design attracts people you can apply it on the back or front hand.
10. White Mehndi Designs
White Mehndi Goes Mainstream White Mehndi is the talk of the town for the new-age girls, which started as a make-up trend for music festival goers and is now appearing in girls' hands. White henna is just like paint. This is a great option for those who don't want traditional red henna.
For Beautiful Hair Accessories "Click Here"